Polish Junior Champion, Polish Champion
REEDLY ROAD BLOWMAKER "Dima"
male, dob 27.03.2006
owner: Malgorzata Karaszewska, Poland
"Dima" was looking for the owner for such a long time that we decided to keep this wonderful puppy. But at the age of 5 months Dima found his home in Poland, in the family of Valdek and Malgorzata Karaszewsky. We miss him greatly, but hope to see Dima at shows in Europe.
Dima has wonderful body lines, good angulations and he's a great mover. He has the character one can only dream about - no wonder we had nothing against keeping this lovely boy ;)
While staying with us Dima took part in 3 shows and had great results.
- 12/08/2006 - CAC show in Vyborg - Best baby, BIS-I
- 12/08/2006 - PH specialty in Vyborg - CW, Res.Best baby
- 27/08/2006 - CAC show in Sergiev Posad (Moscow region) - Best baby, BIS-II
Dima has already gained his Polish Junior and adult Championship and has some BIS and Group winnings and placements so far. He's handled by Marcin Maslowski.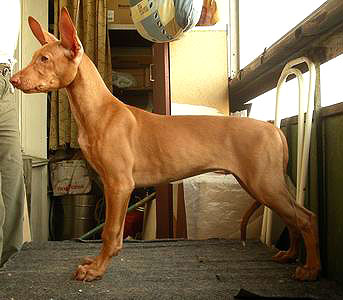 "Dim" at the age of 10 weeks
Pedigree
Swedish Champion,
Champion Int
Junior World Winner
Farao Anubis Kahiro (Sweden)
Swedish Champion
Junior World Winner
Antefa's Menkhar
3xWorld Winner, 3õEuropean Winner, USA Champion, GB Shampion, Swedish Champion, Finnish Champion, Nordic Winner
Farao Anubis Ramses
Swedish Champion
Puresesence Dandaloo Doowi
3xWorld Winner,3õEuropean Winner, Swedish Champion, Finnish Champion, Nordic Winner
Antefa's Kahira
Swedish Champion
Antefa's Hapi
Swedish Champion, Nordic Winner International Champion
Antefas's Farah Dibah
International Champion
Russian Champion, Óêðàèíû, Ìîëäîâû, Ýñòîíèè, Áåëàðóñè
Pozhar v Kremle Bank'H-ta Kemt Hebetkhet
Champion Ðîññèè
Scheik's Nefrhoteb
International Champion, Finnish Champion, Nordic Winner
Beltara's Leewards Khalil
Scheik's Hacienda
Champion Int, Multi Champion
Imharref-Holma of the Netherlands
European Winner, Swedish Champion International Champion
Antefa's Jabbah-Kaa
World Winner
Nl, Bel, Dk, Ger Champion
International Champion
Shamu-Amenjura of the Netherlands